Citizen Development
Citizen development is a business trend that encourages employees to experiment with low-code no-code software development platforms.
Citizen development is a disruptive approach to digital transformation and organizational innovation, where teams are empowered to turn ideas into applications using no-code/low-code technology.
What is Citizen Development?
Citizen development refers to the practice of enabling non-technical employees to create or modify business applications and processes. This can be done through the use of low-code or no-code platforms, which provide an intuitive interface that allows users to build applications without requiring programming skills. Citizen development can help organizations to speed up the development of business applications and processes, as it allows employees to create solutions to specific business problems without waiting for IT departments or external developers. It can also help to democratize access to technology, as it enables more people within an organization to contribute to the creation and maintenance of business applications.
What is Citizen Developer?
A citizen developer is a user who creates new business applications for consumption by others using development and runtime environments sanctioned by corporate IT. In the past, end-user application development has typically been limited to single-user or workgroup solutions built with tools like Microsoft Excel and Access. However, today, end users can build departmental, enterprise and even public applications using shared services, fourth-generation language (4GL)-style development platforms and cloud computing services.
—
Gartner
---
The greatest enabler of change of a generation.
The democratisation of software development and delivery means the world can now create meaningful applications without any coding experience.
Low-code and no-code platforms are smarter than ever and sophisticated enough to generate code based on visual inputs and diagrams.
Technology is now more accessible which has empowered new consumer groups to create value. The rise of Citizen Developer.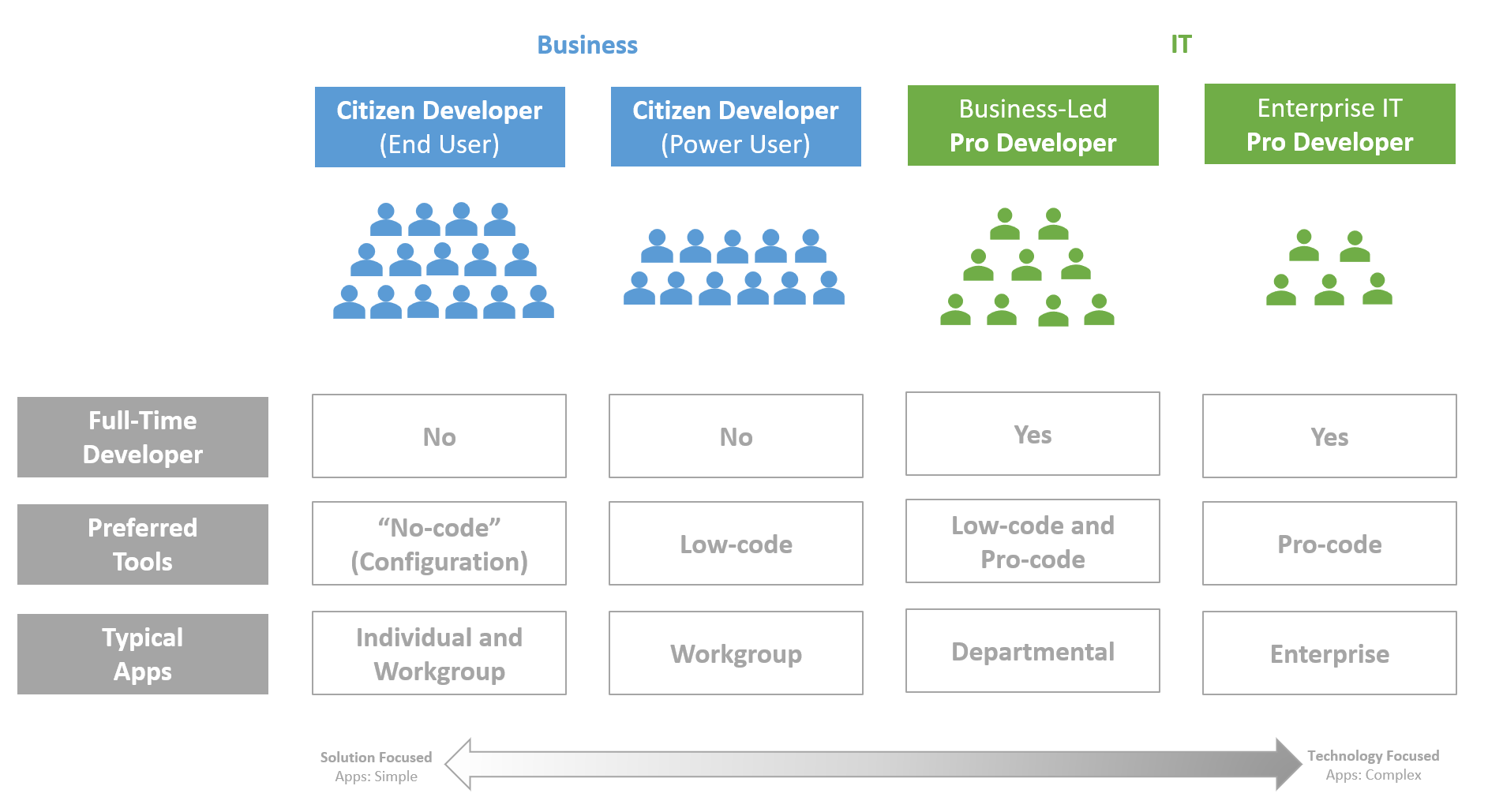 Benefits of Citizen Development
Adapt Faster - Enabling business agility and resilience

Time to market - Delivery speed, respond to change quickly

More Resources - Shortage of Developers

Empowered Users - Empowers business leaders and end users to create their own solutions

Compliance and security - Convert Shadow-IT to Citizen-IT and ensure Business-IT alignment

Costs - Reduced app development costs

Data - Data driven decisions
500 million apps will be created by 2023 to drive transformation and productivity for every organization.
To accelerate this, we must enable a new category of developers —
Citizen Developers
— equipping domain experts with tools that are low-code or no-code to create solutions that solve their unique business needs and help them better collaborate with professional developers. With
Power Platform
, anyone can become a citizen developer, able to create an application, build a virtual agent, automate a workflow, and analyze data in hours or days, not weeks or months.
—
Satya Nadella, CEO at Microsoft
Digital transformation takes a team.
But 86% of IT decision-makers say the biggest challenge to digitally transform their business is too few software developers.
—
PMI Citizen Developer
Citizen Development Platform Analysis
PMI - Citizen Development
## ToDo ##